Submitted by
admin
on September 28, 2015 - 15:40
Meta is widely acknowledged as the market leader in the supply of laser vision systems for the Tube & Pipe industry. We have a huge range of solutions that are carefully matched to the specific requirements of particular Tube & Pipe industry applications.
We are active across a wide range of the Tube & Pipe industry, including:
Spiral pipe mills
Longitudinal pipe mills
ERW tube & pipe mills
TIG tube mills
Laser tube mills
Pipe Joining
Pipe cladding
In spiral pipe mills, Meta has provided everything from a "simple" tracking system to a complete pipe mill control system. We have a wide range of systems matched to the specific applications, including:
ID & OD tracking systems (online & offline)
Gap and mismatch measurement and control systems
UT tracking & inspection systems (online & offline)
Strip bevel measurement systems
Complete mill control systems
On longitudinal mills, Meta has a long history of successful applications of laser vision in LSAW pipe manufacture, going back nearly twenty years.
LSAW pipe is manufactured in a pipe mill, usually starting from large steel plates which are formed into cylinders and welded to make each individual pipe. A more detailed overview of one particular version of the LSAW process used by one of our customers is at:
http://www.bergpipe.com/files/production-process-bspc.pdf
Meta applications for important steps in the LSAW process are as follows:
Process Stage

Meta System

Plate edge milling to produce weld bevels

Bevel inspection after edge milling

Pipe formation, e.g. UOE, JSOE

Tack Welding

Weld seam tracking with mismatch control

ID Welding

Weld seam tracking

OD Joint Milling

Weld seam tracking for milling control

OD Welding

Weld seam tracking

Pipe end facing

Pipe end measurement during or after end facing

Pressure testing

UT and X-Ray Inspection

Weld bead tracking and inspection during UT inspection

Pipe Measurement

Pipe end measurement

Pipe body measurement
Meta's Smart Laser Probe combined with our high resolution SLS-012 sensor provides a very accurate system for tracking on TIG and Laser welded tube mills, as shown below.
On ERW tube and pipe mills, there is less need for tracking because of the nature of the welding process. However, there is a strong requirement for an inspection system which can measure the bead profile, e.g. height, width, toe angles, and the mismatch across the joint in real time. The enviroment of the ERW mill is particulary harsh, so Meta has developed an extreme housing for the laser sensor as shown here.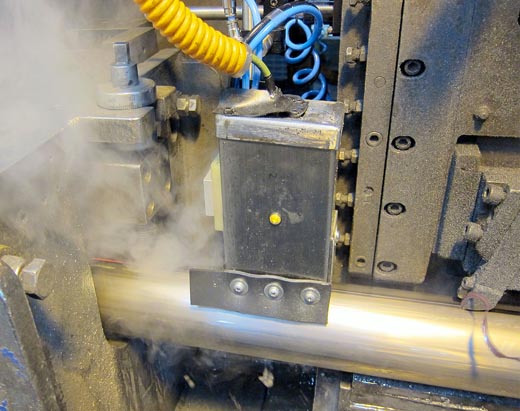 In pipe joining, we work closely with CRC-Evans. You can see a video of a combined laser and colour camera ID weld inspection system on the CRC-Evans web site at: http://www.crc-evans.com/equipment/welding-support/v-root
You can download our Tube & Pipe overview brochure here.